April 26: The Blue Jays have made Guerrero's promotion official. His contract has been formally selected from Triple-A Buffalo, per a team announcement. Infielder Richard Urena was optioned to Triple-A to open a spot on the active roster.
April 24: It's celebration time in Toronto. Blue Jays manager Charlie Montoyo announced to reporters following today's game that the organization will promote uber-prospect Vladimir Guerrero Jr. to the Major Leagues on Friday (Twitter link via Ben Nicholson-Smith of Sportsnet). He'll make his Major League debut in Friday' series opener against the visiting Athletics.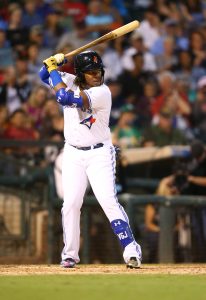 The promotion for Guerrero comes after nearly a year of anticipation. Outcry for the organization to promote the vaunted young slugger began last year when he was utterly laying waste to Double-A pitching as a 19-year-old. Guerrero logged a laughable .402/.449/.671 slash in 266 plate appearances at the Double-A level before moving up to Triple-A where he posted a similarly ridiculous .336/.414/.564 slash. That otherworldly performance, at such a young age, unsurprisingly made Guerrero the No. 1 overall prospect on the rankings of Baseball America, MLBPipeline.com, Fangraphs and Baseball Prospectus.
Toronto, however, has been determined to push back Guerrero's free agency as far as is reasonably possible. For Guerrero, that meant being passed over for a September call-up despite a dominant season in the upper minors, and it surely would have meant he'd open the season at Triple-A even were it not for an oblique injury that serendipitously gave the Jays an actual reason to keep him off the Opening Day roster.
Along the way, Jays leadership made the standard-issue vague claims about how Guerrero needed to work on his defense, his baserunning and learning to be the "best possible teammate" he could be while dodging persistent questions about manipulating Guerrero's service time. It wasn't even two months ago that general manager Ross Atkins made the questionable claim that he simply did "not see him as a Major League player" yet. (Guerrero, it seems, learned a lot in the 11 minor league contests he played this year.)
To be clear, the Blue Jays aren't doing anything nefarious or against the rules; they're exploiting a system that encourages them to make just this type of business-driven move in a year they're not expecting to compete. The Cubs took this route with Kris Bryant, the Braves did so with Ronald Acuna Jr., and numerous other young stars have seen their arrival in the big leagues pushed back for similar reasons. It's not a universal tactic, as evidenced by Eloy Jimenez, Pete Alonso and Fernando Tatis Jr., but it's certainly a common one. Such service time machinations will continue to be a storyline so long as the current service time/arbitration system remains in place, though it's possible that the league and the MLBPA will explore alterations as they work toward a new collective bargaining agreement beginning prior to the 2022 season.
Service time considerations aside, the promotion of Guerrero marks the beginning of a new era in Toronto. The majority of the core that brought the Jays to the ALCS in both 2015 and 2016 has since departed. Edwin Encarnacion, Jose Bautista, Josh Donaldson, David Price, Kevin Pillar, R.A. Dickey, Mark Buehrle, Marco Estrada and J.A. Happ have all landed elsewhere, and it's likely that the Jays will look into moving each of Justin Smoak, Marcus Stroman and Aaron Sanchez this summer.
However, Guerrero is a potential cornerstone piece for the organization — one who'll eventually be followed by the likes of Bo Bichette, Nate Pearson, Cavan Biggio and others as Toronto looks to lay a new foundation in the ever-competitive AL East. Other potential pieces of that puzzle have already begun to get a taste of the Majors, with Rowdy Tellez, Danny Jansen and Lourdes Gurriel Jr. all receiving some experience at the game's highest level.
The position played by Guerrero in the long term is far from set in stone. While the claim that Guerrero's need for defensive improvement was the reason for keeping him in the minors was never legitimate, questions about his glovework are valid. Scouting reports have long pegged him as a sub-par option at third base, and it's possible he'll have to slide across the diamond to first base or even settle in as a primary designated hitter at some point in his early or mid 20s. The Jays surely hope that his defense can improve with some help from the big league coaching staff and continued reps in the Majors, but the 6'2″, 250-pound Guerrero may simply not be a long-term option at his natural position. Regardless of his defensive upside (or lack thereof), though, Guerrero's prodigious bat should quickly establish him as one of the game's brightest young stars.
Given the timing of his promotion, Guerrero will be under control for the Blue Jays through at least the 2025 season, although it's possible that the Jays will explore the same type of early-career extension the White Sox were able to achieve with Jimenez (if they haven't already begun to do so). Guerrero will be a slam-dunk Super Two player, assuming he's not optioned back to the minors at any point, as he'll finish out the 2019 campaign with 158 days of service.