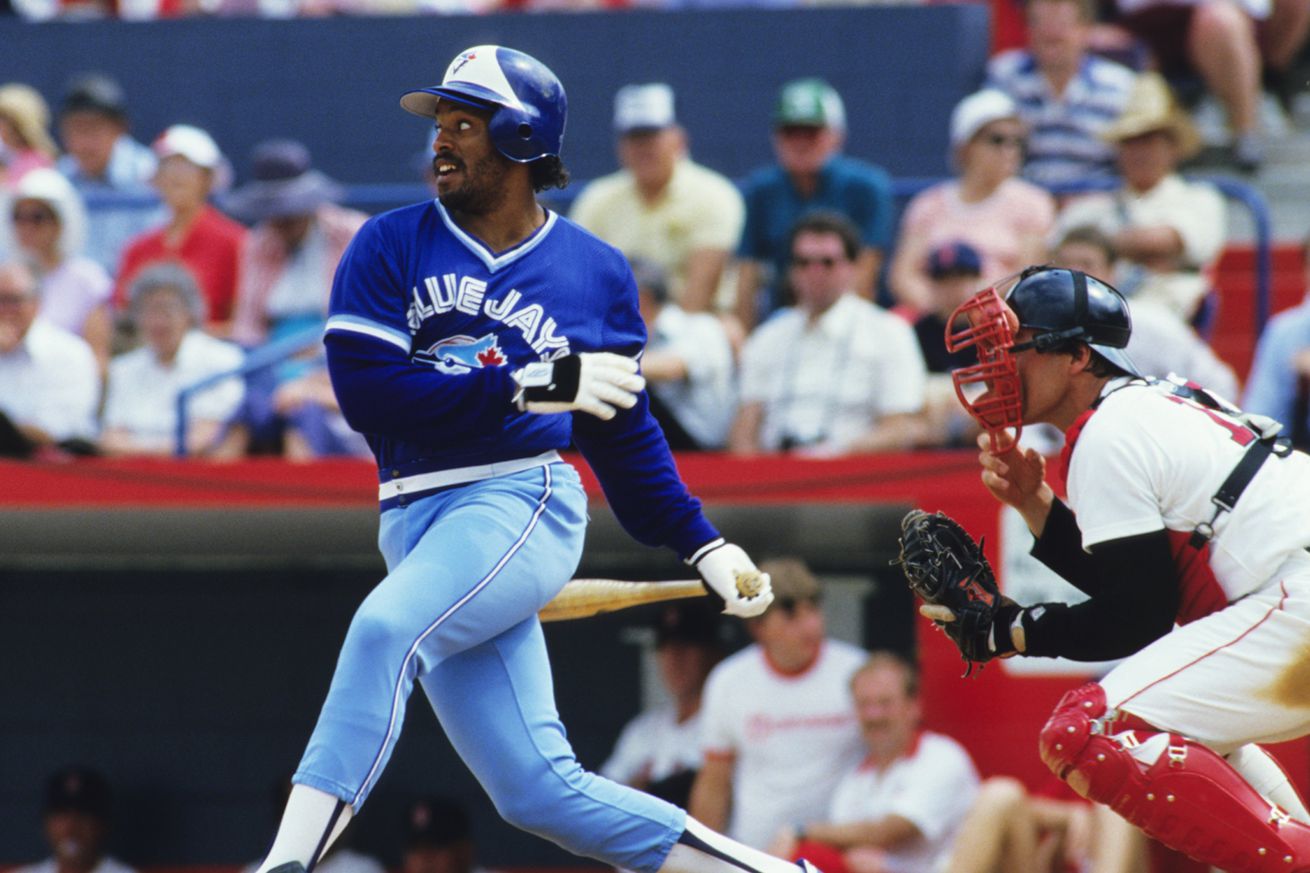 We have a few birthdays today.
It is Prince Fielder's daddy's, Cecil's 60th birthday today.
Is Prince sending him a card? I've read that they aren't exactly close and have some troubles because of Cecil's treatment of Prince's mother. Cecil was a similar player to Prince, both big slugger types. Prince was the better player, but Cecil wasn't bad himself.
The Jays got Cecil in a trade with the Royals for Leon Roberts, but unfortunately for Cecil, he came up about the same time as Fred McGriff, and Fred was the better player. The Jays also had many DH types, so Cecil got in a few games in 85 and 86 and then was the platoon DH in 87 and 88.
He had his best year with the Jays in 1987, batting .269/.345/.560 in 175 at-bats over 82 games. He hit 14 home runs that season. Then in 1988, in about the same number of at-bats, he hit .230/.289/.431 with 9 homers. Seeing that he wouldn't get playing time with the Jays, Cecil signed with the Hanshin Tigers in Japan and played there for a year before signing as a free agent with the Detroit Tigers.
He had his best seasons with the Tigers, hitting 284 home runs over the next seven seasons. 1990, his first season with the Tigers, he hit 51 home runs and came in second in the MVP vote. He also came in second the following season when he hit 44 homers.
Next, he went to the Yankees from Detroit, then the Angels and Cleveland for his last season at 34. Saying he was a big man doesn't do him justice. He was pretty round, more or less the same build as Prince.
He was never a high-average hitter, topping out at .277 in 1990. His career average was .255, but he hit the ball a mile when he did hit. He finished with 319 homers in his career. He would take a walk when offered on and had a decent on base, but his job was to drive in runs, and he did that well. He had five seasons of over 100 RBIs and, from 1990 to 1993, drove in 132, 133, 124, and 117.
For the Jays, well, he came up at the wrong time. He wasn't the player Fred McGriff was, and his size and lack of conditioning didn't endear him to the team. But the Tigers could overlook that and got a heck of a player for seven years.
It is Danny Cox's 64th birthday today.
Danny entered the majors with the St. Louis Cardinals, playing for them for the first six years of his career. He had a couple of terrific seasons as a starting pitcher for them, going 18-9 with a 2.88 ERA in 1985 and then 12-13 with a 2.90 ERA in 1986, but he threw 461 innings between the two seasons. Unsurprisingly, that number of innings led to elbow troubles later. As a result, he ended up missing the entire 1989 and 1990 seasons. He made it back to the majors in 1991 with the Phillies but wasn't the same pitcher he had been before the arm troubles.
The Jays signed him as a free agent and made him a reliever in 1993. In our second World Series season, Danny was an essential part of our bullpen, going 7-6 with a 3.12 ERA in 44 games. He pitched 5 shutout innings in our ALCS win over the White Sox. He did have a rough outing in game 6 of the World Series against the Phillies, being part of a 5-run Phillies 7th innings that put the Phillies up 6-5. But that just set things up for Joe Carter to hit Jays' most significant home run, so we can forgive him.
Danny's arm troubles reappeared in the next two seasons, and he wasn't as good. So, 1995 was his last season in the majors. After his retirement, he has worked as a minor league manager and pitching coach.
Happy Birthday, Danny.
Brian Tallet turns 46 today.
Tallet played in the majors for nine seasons. Well, parts of nine. Three or four of them were full seasons in the majors. Six of the nine seasons were with the Jays.
As a Blue Jay, he pitched in 215 games with 31 starts. He had a 4.75 ERA.
We traded for Tallet in January of 2006 from Cleveland for Bubbie Buzachero (an 80 baseball name, but unfortunately, he never made the majors. I'd love to hear Buck say his name).
In 2006, we used him as a lefty out of the bullpen. Manager John Gibbons didn't use him as just a LOOGY. He pitched 2 innings or more in 10 games and more than an inning in 16 games. He was pretty valuable, getting into 44 games with a 3.81 ERA, with 3 wins and 4 holds. Gibby used him mostly in losing efforts.
He had the same role in 2007, putting up a 3.47 ERA in 48 games, again pitching multiple innings often, again mainly used when we were behind. In 2008, he had a 2.88 ERA in 51 games.
He was the third or fourth lefty in our pen. We had B.J. Ryan, Scott Downs, and Jesse Carlson, so he rarely got into high-leverage spots.
In 2009, he started the season in the bullpen, but he was in the rotation by the end of April. We tried many guys in the rotation that year. Roy Halladay and Ricky Romero were at the top of the rotation. Beyond those two, we had a bunch of guys with ERAs over 5 who made multiple starts. Tallet made 25 starts and 12 relief appearances. He had a 5.41 ERA with a 7-8 record as a starter.
He was back in the pen the following year, pitching in 34 games, with 5 starts and a 5.32 ERA.
Brian became a free agent after the 2010 season and signed with the Cardinals. He played there for half a season and then came back to us in a multi-player trade. The big-name coming to Toronto was Colby Rasmus. Heading to St. Louis were Octavio Dotel, Edwin Jackson, Corey Patterson, and Marc Rzepczynski. The Cardinals were on their way to the playoffs and needed bullpen help. The Jays were on their way to a fourth-place finish and wanted a player with offensive upside. Tallet and another pitcher, P.J. Walters, were throw-ins to fill out our pitching staff.
The Jays released Tallet in September. He'd go to the Padres and Pirates but didn't pitch in the majors again.
We consider him an innings eater, but he was pretty good for his first three seasons with the team. We had a stacked bullpen, and he needed help to work his way into a high-leverage spot.
Happy Birthday, Brian.
Jeremy Jeffress turns 36 today.
Jeffress has played 11 seasons in the majors. He's had some good years (27 saves for the Brewers in 2016, and he had a 1.29 ERA in 73 appearances for the Brewers last year) and some less good seasons where his excellent 'stuff' couldn't overcome his inability to find the strike zone.
He was a Blue Jay for a short time. We picked him up before the 2013 season and DFAed him a few days into the 2014 season (the team DFAed him for Chad Jenkins, which, looking at their careers, was a huge mistake). He cleared waivers but chose free agency and did well for himself. The Jays gave up on him too quickly, but then I'm impressed by guys who can throw 100 mph.
He pitched in 13 games with a 3.29 ERA, 13.2 innings, 16 hits, 8 walks, and 16 strikeouts.
Career Jeffress has a 3.08 ERA in 414 games. In 424.1 innings, he's allowed 377 hits, 163 walks, and 370 strikeouts.
Before the 2021 season, he signed with the Nationals but was released before the season started and it appears that was the end of his career.
We interviewed Jeremy back here and talked to his agent, Joshua Kusnick here. His agent has been a friend of the site.
Happy Birthday, Jeremy.