With the postseason down to just two teams, most squads are now well into their offseason planning.  What storylines lie ahead around the league in what is shaping up to be a likely busy NHL offseason?  Next up in our Offseason Keys series is a look at the Toronto Maple Leafs.
Last summer was certainly a big one for Toronto as they landed the biggest prize on the UFA market in center John Tavares.  That gave them plenty of optimism heading into 2018-19.  However, things didn't go as well on the ice.  They finished third in the Atlantic Division (tied for fifth in the conference) which had them on the road against Boston in the first round where history repeated itself for the Maple Leafs with an early elimination.  Now, GM Kyle Dubas has some tricky waters to navigate this summer to keep as much of the team intact as possible with some salary cap challenges ahead and still remain in contention.  Here are the keys to their summer that could allow that to happen.
Deal With Trade Requests
It's rare that a pair of trade requests get made public but that's the case in Toronto, albeit for completely different reasons.  Defenseman Nikita Zaitsev cited personal reasons for his request but he also has voiced some frustration over the criticism he received over the past couple of seasons.   Meanwhile, veteran winger Patrick Marleau is also looking to get back to the Western Conference to get closer to his family.
Zaitsev still has five years remaining on his contract with a $4.5MM AAV.  While that price tag is reasonable for a top-four defender, the term left will likely scare some potential suitors off while his penchant for tough mistakes may also hurt his value.  However, with the relatively weak state of the UFA market among right-shot defenders beyond Erik Karlsson and Tyler Myers, Dubas should still be able to get reasonable value for the 27-year-old.  He doesn't have any trade protection in his contract until July 1st (he can block a move to 10 teams after that point).  However, teams may want Toronto to pay the $3MM signing bonus he's owed on that day which could complicate things.
The same can't be said for Marleau, however.  While he could still help some teams, his $6.25MM AAV is on the expensive side for someone who shouldn't be in a top-six role anymore.  What helps the cause a little bit is that part of his $3MM signing bonus is paid on July 1st, lowering his $4.25MM salary for the season.  The other instalment is due in December.  For teams that aren't near the Upper Limit and are more budget-conscious, that could make acquiring him more palatable.  That said, it's still likely to take a significant inducement on Toronto's end to get a team to relieve them of the final year of Marleau's deal and Marleau, who has a full no-move clause, still has to sign off on the swap.
Re-Sign Marner
Dubas has already called re-signing winger Mitch Marner his top priority this summer.  That's certainly understandable considering how important he has been to the Maple Leafs already through the first three seasons of his career.  He led the team in scoring the past two seasons and had a career year in 2018-19 while finishing fourth in the league in assists (68) and 11th in points (94).  Even though he doesn't have salary arbitration eligibility, he's in line for a massive pay increase.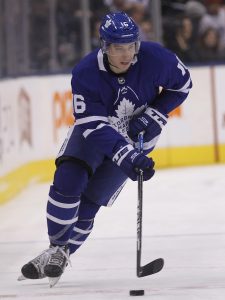 It's that reason that Dubas would like to get something done so fast.  Not only would that eliminate any possible threat of an offer sheet (unlikely as it may be), it would also allow them to have a much clearer picture of their cap situation.  Tavares ($11MM) and Auston Matthews ($11.634MM) are at the high end in terms of AAV and while those two play the more premium position as centers, Marner's agent Darren Ferris will undoubtedly be trying to use the fact that Marner out-produced both as justification for a comparable price tag.
It appears that Marner's camp is intent on making it to the RFA interview period on June 26th.  While some will suggest that doing so could make him a target for an offer sheet, doing so may simply be his due diligence to get a better feel for what other teams believe his market value is.  Between that and the belief that the top restricted free agents this summer may not want to be the first to sign and set the benchmark for the others, Dubas will have his work cut out for him if he still hopes to get Marner signed as soon as possible.
Add Help On Defense
Jake Muzzin was a nice addition to Toronto's back end in advance of the trade deadline and remains under contract for one more year.  However, there are some other holes that need to be filled this offseason to get the state of their blueline back to what it was last season, let alone improving it.
Jake Gardiner is one of the top UFA defensemen on the market this summer and will undoubtedly get larger offers elsewhere than what Toronto can afford.  Veteran Ron Hainsey may not be back either.  Travis Dermott will miss the start of the season due to shoulder surgery while Igor Ozhiganov, who was a regular through the first half of 2018-19, has returned to the KHL.  In other words, the only two returnees that were on the roster this past season are Morgan Rielly and Justin Holl, who was a healthy scratch for the majority of the year.
Some of those spots will be filled internally.  Calle Rosen had a strong year in the AHL and should be ready for a full-time spot now.  Andreas Borgman should be in the mix as well, especially if they want their better defense prospects to get more development time in the AHL.  Newcomer Teemu Kivihalme will also get a look.
Even with that, there still will need to be some additions made.  At the very least, expect Toronto to be in on a veteran depth player or two that are willing to sign for affordable one-year deals.  Beyond that, Dubas will need to be shopping for NHL-ready talent as he navigates his way through the trade market in the weeks to come.
Photo courtesy of USA Today Sports Images.