The Toronto Maple Leafs were forced to say goodbye to Zach Hyman this offseason when he signed a massive seven-year, $38.5MM deal. With Hyman being the team's only legitimate top-six left-winger, you would guess that someone like Ilya Mikheyev would be excited about the opportunity that should be there in 2021-22. Perhaps not, as Mikheyev requested a trade at the end of this season according to Elliotte Friedman of Sportsnet.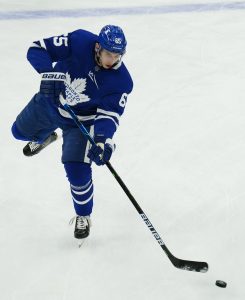 With Hyman's departure though, and bargain bin replacements signed in the offseason, it makes sense why the Maple Leafs don't want to grant Mikheyev's request. According to Friedman, the organization has let him know they still consider him a big part of the team, even after a year that saw his average ice time drop to just 14:13. Just 12:28 of that was at even-strength, and Mikheyev ended up with 17 points in 54 games.
Heading into his final season before unrestricted free agency, it's easy to see why Mikheyev might want a different opportunity. The 26-year-old was an undrafted free agent signing out of the KHL and unless he shows that he's closer to the player that scored 23 points in 39 games as a rookie, it could be difficult to secure a deal worth more than the $2.19MM he'll earn this season. The fact that fellow KHL signing Alexander Barabanov–who couldn't even crack the Maple Leafs lineup on a regular basis–found such immediate success with the San Jose Sharks, could be a shining example of that greener grass.
Once again though, the Maple Leafs depth chart on the left side is not very imposing at the time being. The team signed Nick Ritchie and Michael Bunting, who both may get looks in the top-six, but neither are locks to establish themselves beside Auston Matthews and John Tavares. There could be a real opportunity for Mikheyev this season with Hyman (and Joe Thornton, who played a good chunk of the season on the first line) out of the picture, if he's willing to take the organization at their word and buy-in.
Photo courtesy of USA Today Sports images